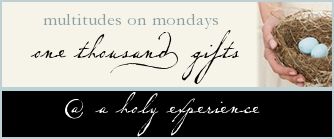 Joining Ann today for Multitude Mondays...Counting that which is eternal in the transitory.
Sun and fresh air drinking coffee and watching the girls make pretend food from sticks, twigs, leaves, baby conkers and other woodland goodies.
The white shawl Emmy crocheted for Nola

New art materials and picture books to read with the children
When he held me in his arms. And I felt strong again.

When he told me to treat myself and I did.

The cleansing quality of tears, when tears are needed.

A beautiful little prayer book, God parent gift to Nola.
A good long, deep and healing afternoon sleep.
A little girl we know who is Nola's age who is making an incredible recovery from heart surgery. Beyond anything we could have hoped for.
Our girl's poems and gifts unwrapped upon the bed for a very special Daddy on Father's day...