There is a place, beyond this place.
Sunlit strands curve outward and onward,
Evoking the soft sting of a memory.
Sighing deep as a teardrop drawn from the dawn.
Weary heart don't forget, all colours are birthed,
From the light that finds you here in the dark.
In this fractured moment, Love beckons unflinching.
"
Cup your hands and hold the weightless gold of eternity.
Release all else,
This is the way,
come."
Here, in this moment with all it's flaws,
The sodden clay, the tear stained pores,
Lies a germinating soil.
From which grain can grow.
*
In that moment,
when life reveals its true purpose,
let go,
and Love will break like a wave, trembling,
Over the bare ground of your soul.
Seek that pearl. Sell all else!
Abandon your heart to the deep.
Beneath, and beyond the endless fields of desire and fear,
The seed waits for water.
Earthy, pure.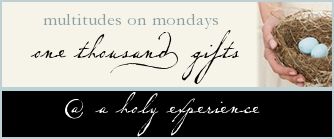 Thankfulness from the week past...
We made each other hurt in the morning but by evening we had found each other once again closer, truer.
Falling asleep against the warmth of one who holds your heart.
The feeling of Love stretching, widening, engorging, embracing.
Healing prayer
Making something special for my big girl's birthday tomorrow.
Embracing unschooling more and more, allowing the God that moves and breathes in all of us direct the flow of our days.
Hearing the girls laugh and chatter with friends in their bedroom.
Boo curled up asleep in her princess tent.
Beautiful illustrations in children's books.
Emmy's vegetable patch drawings and plans.
Letting go of fears and the idea of what things "should be".
Embracing the moments, uncensored, unedited, un-embellished, just as they are, given by His hand.

The Grace that illuminates the seeds of Love and Life within each one of them.